Artists:
Guillermo Anzorena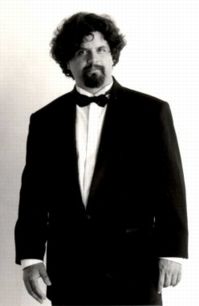 Guillermo Nicolas Anzorena was born in Mendoza, Argentina. He began his singing studies in 1985 with Professor Fenicia de Cangemi at the Music School in the National University of Cuyo. In 1991 he got his diploma with honors for academic excellence. He continued his studies in Karlsruhe in 1994 with Prof. Roland Hermann and Prof. Lucretia West. After his graduation in 1996 he started his studies in the Opera School in Karlsruhe, as a student of Prof. Donald Litaker. In addition to his education at the University, he has attended master classes given by Guillermo Opitz, Rosalyn Tureck, Noemi Souza, Lucretia West, Hartmud Höll & Mitsuko Shirai, and Marjanna Lipovsek. He has won several awards, the most important being the "Young Voices Contest" in Buenos Aires, where received the 2nd prize in 1991, and the Richard-Wagner-Society, where he obtained the "Talent of the Year" award in 1993.
In collaboration with pianist Cecilia Nagy, he is a successful interpreter of chamber music, mainly of Lieder by Brahms, Schumann, Schubert, Wolf and others. His voice being ideal for the Oratory repertoire, G. Anzorena is frequently invited to perform the most ambitious compositions of Bach, Haendel, Mendelssohn and many others.
Since the year 2000 he has been the first baritone soloist in the ensemble "Neue Stuttgarter Vokalsolisten", which is mainly dedicated to contemporary music. He performed several operas all over Europe, singing the characters Henry in "Street Scene", Allazim in "Zaide", Tonio in "I Pagliacci", Martino in "L'Ocasione fa il ladro", Marcello in "La Bohème", Conte and Figaro in "Le Nozze di Figaro", Conte Robinson in "Il Matrimonio segreto", and others. As first baritone soloist he performed together with the "Neue Stuttgart Vokalsolisten" the main role in the World Premier of Roberto Andreonis opera "Si" in Bergarmo (Italy).
As a member of the Ostinato Foundation he has recorded two CDs with songs of Guastavino, which have not been released yet.